3 WAYS TO INVEST IN REAL ESTATE
3 WAYS TO INVEST IN REAL ESTATE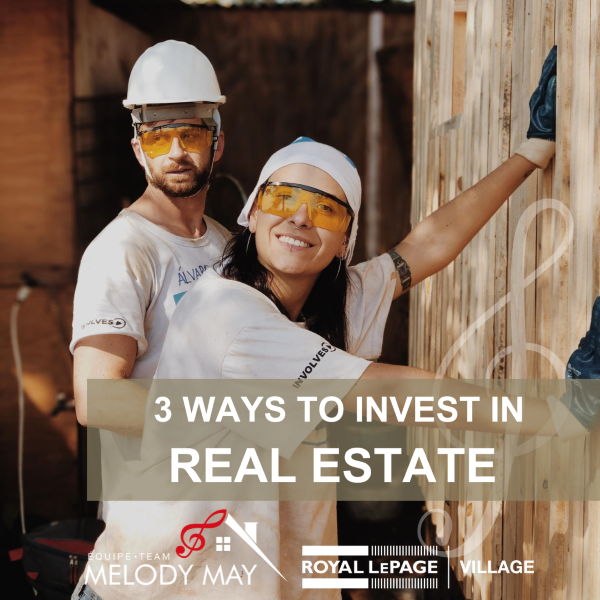 Many investors are turning to the real estate market to grow their assets. From rental properties to flipping to investment funds, there are plenty of investment options. Ready to get started? Browse this article for three ways to invest in real estate.

What is real estate investment?

Investing in real estate means acquiring a property you don't live in as a source of income. In some cases, this form of direct investment generates an annual return of between 5% and 7%.  While buying a property usually requires a lot of capital, it is also possible to invest in real estate on a small budget with investment funds. This is referred to as indirect investment.

3 ways to invest in real estate:

1. Purchase a rental property

Rental investment, such as buying a multi-unit building, is probably the most common way to invest in real estate. While the yield is generally consistent because of monthly rent, this option is not without risks. 

This is especially true when you take into account managing tenants and building maintenance. The minimum down payment requirement for buildings with four units or less can be as high as 20% of the property price.

Before investing a large amount of money, consult with a real estate broker who can help you find a building that will generate the most income based on several criteria, including market conditions and location.

2. Flip a house

Have you ever thought about buying a home, renovating it, and then selling it at a higher price? Even though flipping a home requires a lot of capital, it often generates a quick and high return. However, many investors make the mistake of underestimating the time, money and energy this type of project requires. The new anti-flip tax in effect since January 1, 2023, should also be taken into account.

To set yourself up for success, work with a real estate broker who can help you assess the market and identify which properties have the most potential. They will also be available to help you with selling the house once it has been renovated.


3. Invest in an investment fund

To invest in real estate without buying property, you can also invest through an investment fund such as:
real estate investment trusts
exchange-traded funds (ETF)
real estate mutual funds
By buying stocks just as you would on the stock market, you can invest without worrying about managing a building and tenants. A few hundred or thousand dollars is enough to take your first steps forward. 
Estimating the return on a real estate investment is quite complex. Several factors need to be considered, including the final price, down payment, generated revenue and operating expenses. A broker is a partner you can trust who will help you find the best investment opportunity depending on your situation.